Our team successfully developed since many years the cloud based Supplier Online Portal.

First the functionality was mainly focused on Global Tools and Asset Management.
Afterwards Supplier Quality Assurance, PPA Process control and Change Management features have been added step by step by a team of experts.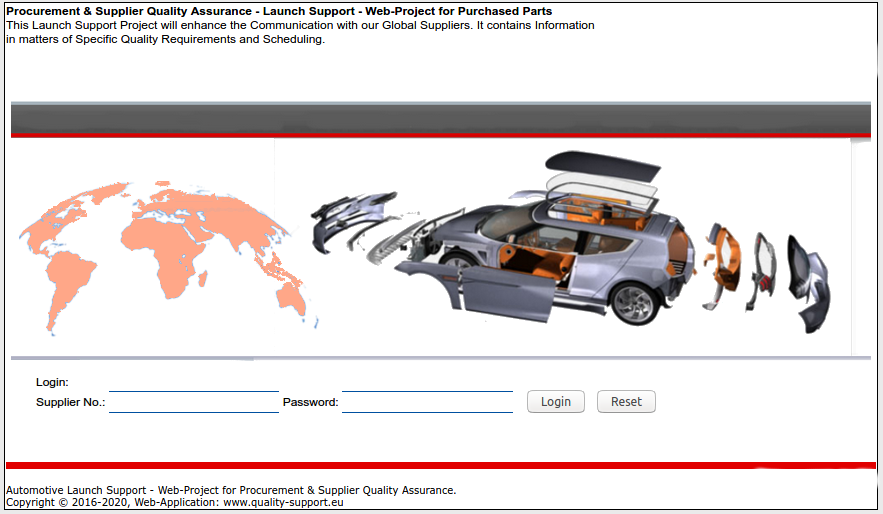 Today the Portal provides shared data services for Vendors and a Dashboard to circulate project information through the whole corporation and external consultants.
Basic functions are:
Supplier database:
Maintenance of all project relevant Supplier basic data, Audit schedules and supplier status information
Tool tracker:
Management of all project relevant Production tools and peripheral equipment (fixed assets) (Transfer schedules, Home Line production status etc.
Component database
Part related status data, technical change level, quality release status, schedules and open tasks
 PPA [PPAP] Production Part Approval Process database:
Target date tracking of all relevant PPA requirements and archieving of documents for circulation and reporting
Technical Change Management
Document control and tracking of technical changes and storage of related documents for circulation and reporting
Distribution of project relevant forms, standards, schedules and reports
Interface for data import and export (Office or ERP Software)
The Web-based cloud software runs on standard Internet Browser's and on Mobile Devices and it does not require any other add-on.
If you are interested in a Software Solution for New Project Launches within the Automotive Industry developed by professionals do not hesitate to contact us.
We have favorable licence fees.
Simon Krepler